Above, "Normal" embankment with and without foot, below "Large" embankment with and without foot
Embankments creation
You can create 2 types of embankment, "Normal" or "Wide", each composed of a top-line (the crest) and one or more bottom-lines (the foot), or only a top-line.
The elements that can constitute a crest or a slope foot are: lines, polylines, arcs and splines.
You can create different embankment models suitable for different scales by adjusting the barb size and spacing settings.
Embankments created in this manner are dynamic and redraw automatically when you modify the crest or foot of the embankment using one of the AutoCAD editing commands.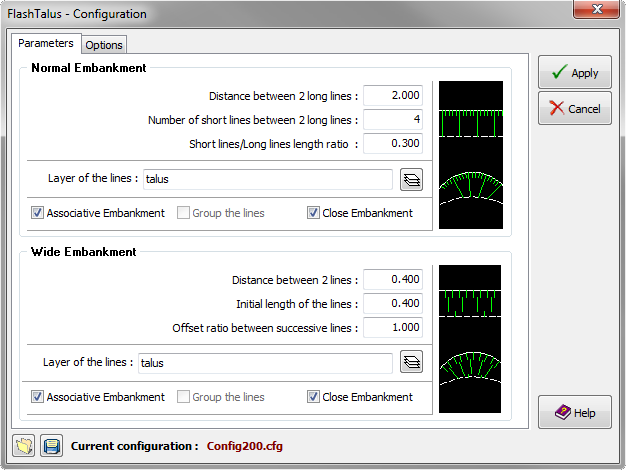 Embankments Configuration

Embankments Configuration
Before you can create embankments, you must create one or more configurations, which is to define for each type of embankment (normal and wide) the size and spacing of the barbules, as well as creation options.
You can create and save as many configurations as you want, then reuse them as needed.
In addition, you can easily modify the parameters of an embankment, or even transform one type of embankment into another by using the slope edit command.
get_app

Download FlashTalus 3.0
Download demo version, fully functional but limited to 20 days

Available for AutoCAD, BricsCAD , ZwCAD and GStarCAD

How to install FlashTalus 3.0
shopping_cart

Buy FlashTalus 3.0 - 75.00 € TTC
Get a license on the secure payment site Paypal

Enter the serial number of the software, then click 'Pay now'. You will be redirected to Paypal.com website to register. You'll then receive your license code by e-mail within minutes. (Make sure your anti-spam filter doesn't block messages from DeliCAD.com).

info

Additional Information
Help - More information

You want more information on this application or on the site, on the means of payment or the purchase of several licenses, do not hesitate to contact me.

See also :
FlashPoints - Topographic points

French version
To find your serial number, click the 'Help' button (

) of the add-on toolbar.
A dialog box displays, showing this number (in blue) :