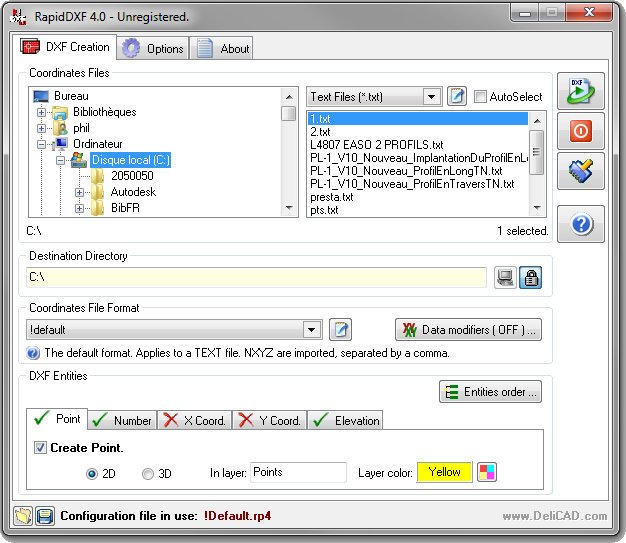 RapidDXF 4.0.
RapidDXF is a stand-alone application that does not require AutoCAD.
RapidDXF 4.0 allows to import topographic data in your CAD system. It reads ASCII (text) or XLS (Microsoft Excel) files of coordinates and creates DXF (version 12) files. The DXF files so created are usable in any CAD software.
Coordinate files can be GPS files, XYZ files, generaly files with the following format: Number, X (East), Y (North), Z (Elevation), Description. Moreover, a special Code field can be processed for polyline creation.
The DXF entities created in the DXF file are :
POINT entity : a point is created at the X Y and Z coordinates. It can be 2D or 3D.
TEXT entity : these are text strings for Number, X, Y, Z and Description datas.
POLYLINE entity : a multiple segments line joining specified points.
For each of these entities, you can choose a layer and a color.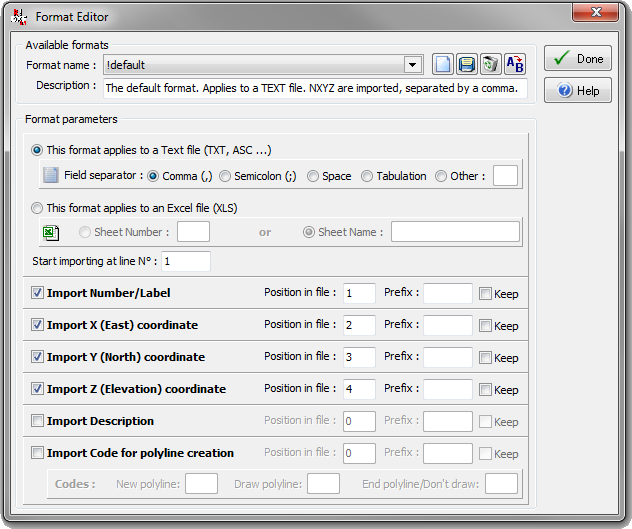 Format editor

Formats

A format indicates which data must be extracted from the coordinates file. RapidDXF can process the following type of data : Number or Label of the point, X (East) Coordinate, Y (North) Coordinate, Z (Elevation) Coordinate, Description of the point, Code for polyline creation.
The coordinate file must contain at least the minimum required fields : X and Y coordinates. It can also contain more than the 6 fields recognized by RapidDXF in which case the data in these fields is not used.

The DXF files created by RapidDXF are compatible with most CAD software.

If you don't need to import XLS files or need a simpler software, please check
RapidDXF LT
get_app

Download RapidDXF 4.0
Download demo version, fully functional but limited to 20 days

Available for Windows XP to 10
shopping_cart

Buy RapidDXF 4.0 - 55.00 € TTC
Get a license on the secure payment site Paypal

Enter the serial number of the software, then click 'Pay now'. You will be redirected to Paypal.com website to register. You'll then receive your license code by e-mail within minutes. (Make sure your anti-spam filter doesn't block messages from DeliCAD.com).

info

Additional Information
Help - More information

You want more information on this application or on the site, on the means of payment or the purchase of several licenses, do not hesitate to contact me.

See also :
FlashPoints - Topographic points management