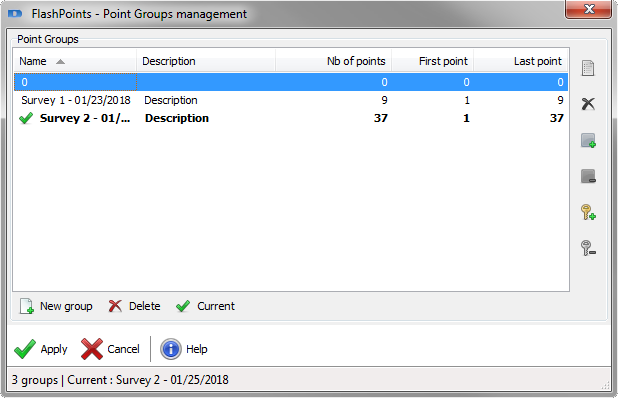 Point Groups Manager
The Point Groups Manager
The points are organized in groups to allow an easy differentiation of these. A FlashPoints group is a list containing a number of point numbers on which it is possible to perform various operations (rotation, altitude change ...).
Point groups are managed through the "Point Group Manager" dialog box.
The Manager allows you to create or delete groups of points, to add or remove points from a group of points by selection or criteria, to consult the list of points, etc.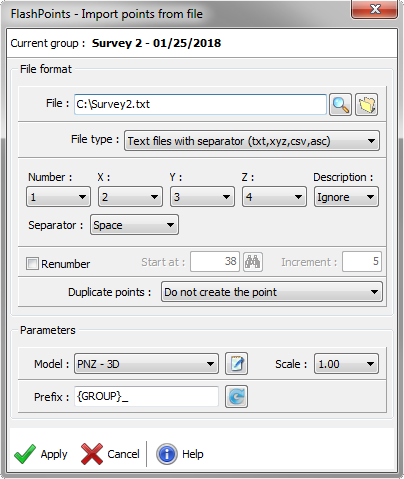 Import a coordinate file

Import a point file
FlashPoints allows you to create points in the current group from a text or Leica (.gsi) coordinate file.
A columnar text coordinate file must have the following structure :
Point number (optional)
X coordinate
Y coordinate
Altitude (optional)
Description (optional)
The fields can appear in any order and the field separator can be a Space, a Comma or a Semicolon. You must indicate the position of the fields in the file.
A Leica GSI coordinate file can be GSI8 or GSI16.
The points will be created based on size, color, etc. settings that you specified in the 'Settings' tab of the dialog box.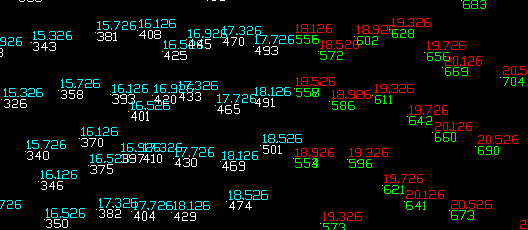 Points, numbers and altitudes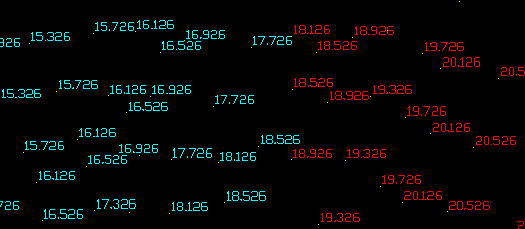 Attributes Non-overlapping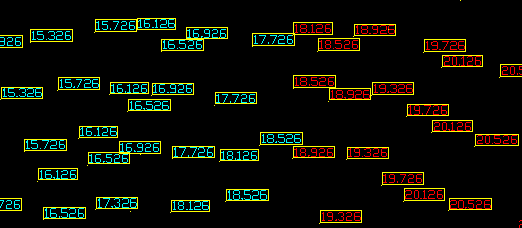 Frame around Attributes
Manipulation of points
FlashPoints includes all the tools to organize, modify, edit your points, among which:
Points
Import/export points coordinates from and to a file
Create points and their attributes "Number", "Elevation" and "Description" by clicking
Create points on existing entities
Edition/Modification of points
Create the coordinates table
Modify the points elevation
Reposition objects on points
Point Information
Attributes
Modify attributes size
Modify attributes rotation
Attributes Non-overlapping
Frame around Attributes
Easy attributes moving
Filter entities
By point
By number
By altitude
By description


Points Number input box

Auto drawn polylines and multi-copied circle
Points Number input box
FlashPoints comes with a "Points Number input box" that lets you respond to AutoCAD commands with a point Number or a sequence of points Numbers rather than with a click or coordinates.
This dialog box activates whenever you pass the mouse cursor over it.
You can for example issue the POLYLINE command, then enter in the box "100-200,205,207" : this will create a polyline passing through points 100 to 200, then 205, then 207
Other example : multiple copy of entities: issue the COPY command, select objects to be copied, select the "Multiple" option of the command, indicate the base point, then put the mouse cursor on the "FlashPoints" input box. It activates, enter " 100-125" in the edit-box, then [RETURN], the selected objects are copied at points 100 to 125.
If you enter a point number in the box while there is no active command, the point number and its coordinates will be shown on the command line as follow : >> Coordinates of point 125 : X=906.124, Y=519.413, Z=10.000
get_app

Download FlashPoints 3.03
Download demo version, fully functional but limited to 20 days

Available for AutoCAD and BricsCAD

How to install FlashPoints 3.03
shopping_cart

Buy FlashPoints 3.03 - 59.00 € TTC
Get a license on the secure payment site Paypal

Enter the serial number of the software, then click 'Pay now'. You will be redirected to Paypal.com website to register. You'll then receive your license code by e-mail within minutes. (Make sure your anti-spam filter doesn't block messages from DeliCAD.com).

info

Additional Information
Help - More information

You want more information on this application or on the site, on the means of payment or the purchase of several licenses, do not hesitate to contact me.

See also :
FlashMNT - Digital Terrain Model

French version