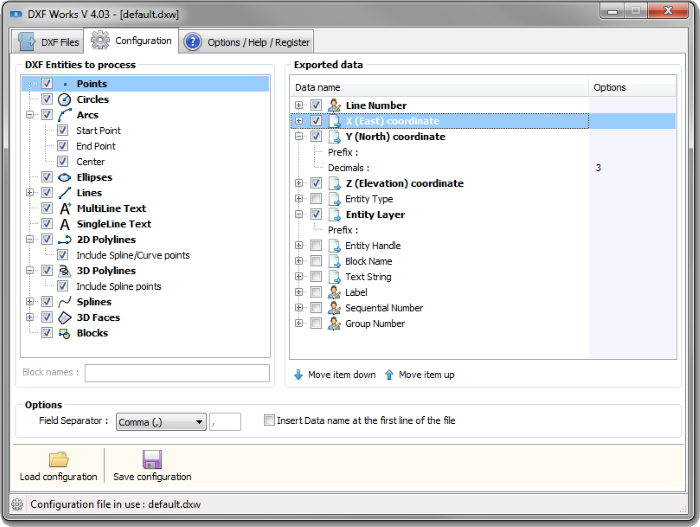 DXF Works.
DXF Works
DXFWorks is a stand-alone application that does not require AutoCAD.
DXF Works 4.03 allows to extract coordinates and other various data from DXF files.
You can choose which entities to process and which data to extract, creating your own file format. DXF Works can process several files at one time and lets save your settings in reusable configuration files. DXF Works can be used for several purposes : extracting coordinates, counting blocks, getting text, etc...
You can easily export created files to Excel or Database software.
DXF Works can export the following Data to data files : a Unique Number, the X (East) coordinate, the Y (North) coordinate, the Z (Elevation) coordinate and Custom data, used to export specific data in addition to the coordinates (entity type, entity layer etc...).
get_app

Download DXF Works 4.03
Download demo version, fully functional but limited to 20 days

Available for Windows XP to 10
shopping_cart

Buy DXF Works 4.03 - 54.00 € TTC
Get a license on the secure payment site Paypal

Enter the serial number of the software, then click 'Pay now'. You will be redirected to Paypal.com website to register. You'll then receive your license code by e-mail within minutes. (Make sure your anti-spam filter doesn't block messages from DeliCAD.com).

info

Additional Information
Help - More information

You want more information on this application or on the site, on the means of payment or the purchase of several licenses, do not hesitate to contact me.

See also :
FlashPoints - Topographic points management
To find your serial number, click the 'Help' button (

) of the add-on toolbar.
A dialog box displays, showing this number (in blue) :