FlashMNT - Digital Terrain Model
Triangulation, contour lines, volumes.
FlashMNT is a tool that allows the creation of a Digital Terrain Model and 3D computations. From points and/or breaklines, create a DTM, then use the various fonctions of FlashMNT to apply a mesh, color a DTM by altitudes, compute cut and fill quantities, vizualise cross sections of the terrain, calculate areas and volumes, etc.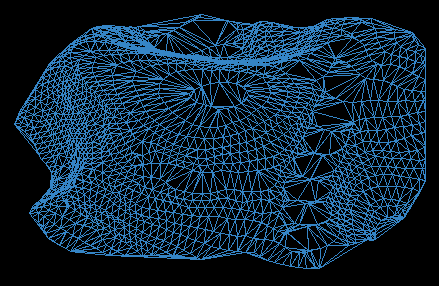 Triangulation of points and polylines
Triangulation
From points and 3D polylines (representing the breaklines of the terrain), FlashMNT creates a "Delaunay" triangulation, faithful representation of the terrain, which will be the base of the various subsequent calculations.
FlashMNT also makes it possible to create a triangulation containing holes and to limit the triangulation zone to a predefined boundary.
FlashMNT is fast and can triangulate several million points (about 100,000 points / second)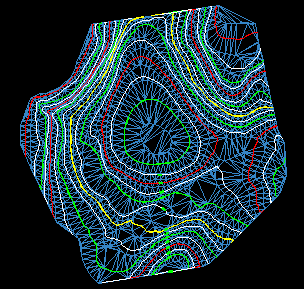 Contour lines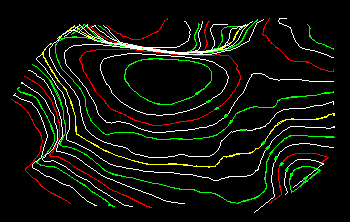 Contour lines labeling
Contour lines
Contour lines are created automatically from the DTM. Different parameters make it possible to adjust the equidistances, to filter the altitudes, to choose the type of smoothing of the curves, etc.
Among these parameters, we find :
Contour
Choose a predefined model or use buttons to Create, Delete or Rename a model. Models allow you to create various configurations fitted to different scales.
Order X : Orders represent the equidistances between contours. Order 1 would be the "master" contours, and orders 2 to 5 the intermediate contours.
Interval : Equidistance between contours belonging to this order.
Layer : Enter the name of the layer in which the contour line will be created, or click to choose it from a list.
Color : Click to select a color.
Width : Enter the polyline width.
Filter elevations
Check this box to limit the elevations between which the contour lines are drawn.
Entity type
Describes the type of entities used to draw the contours.
Smoothing type
Choose a Smoothing type to use.
The curves can then be labeled according to several methods.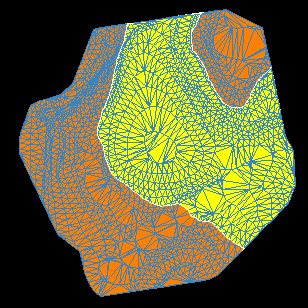 Volumes of a DTM relative to a inclined reference plane
Volumes - Cut and Fill quantities
FlashMNT calculates the volume of a DTM relative to a horizontal or inclined reference plane. The program calculates the volumes above and below this plane and then colors the different areas of cuts and fills.
FlashMNT also makes it possible to calculate the volumes of cuts and fills between 2 DTMs by the prisms method, and to draw the of intersection zones of the DTMs.
You can also equilibrate the cuts and fills by moving in the Z direction the 2nd DTM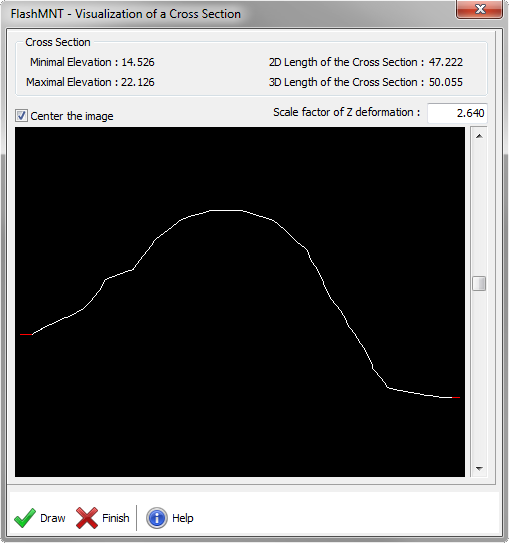 Visualization of a cross section
Cross sections
This tool allows you to perform and visualize cross sections.
Click 2 points representing the cross section to create, then visualize and draw it according to different parameters :
Cross section style
Creation parameters
Distances scale
Altitudes scale
Comparison plane
Minimum distance between 2 points of the section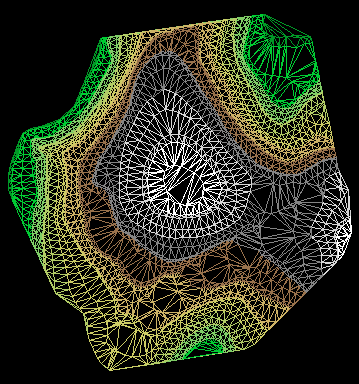 Slicing of a DTM by Elevations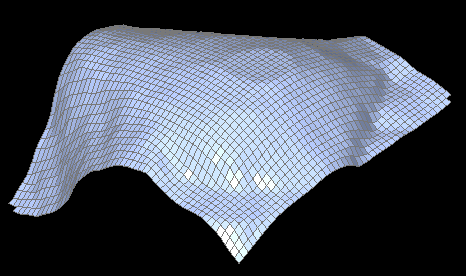 Creation of a Mesh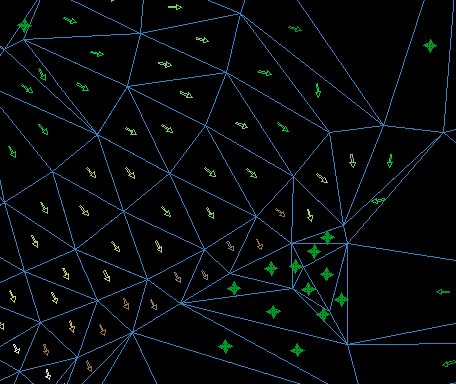 Slope arrows of the DTM
All functions
FlashMNT comes with more than 30 easy to use functions :
3D Polylines
Creation of 3D Polylines from Objects
Joining 3D polylines
Offsetting 3D Polylines
3D polylines Optimization
Position 3D polylines on points
3D polyline fast segment edition
Distribution of the elevations of the vertices of a 3D polyline
Triangulation
Boundary of a set of points
Triangulation
DTM verification.
DTM Statistics
Export points of the DTM
Surfaces and volumes
Intersection Lines of 2 DTMs
Computing the 3D Surface
Volumes of a DTM with respect to an horizontal reference plane
Volumes of a DTM with respect to an inclined reference plane
Cut and Fill Computation between 2 DTMs

Contour lines
Contour lines
Contour lines labeling.
Visualization of a Cross Section
Creation of a Mesh
Altitudes and Slopes
Slicing of a DTM by Elevation
Slicing a DTM by Slope
Slope arrows of the DTM
Labeling slopes of the DTM
Waterdrop flow
Flooded areas
Objects Projection on a DTM
Points in the DTM
Searching for Z Min and Z Max
Find High and Low points
Identification of a point inside the DTM
Faces of the DTM
3D Faces Permutation
Cutting of Faces with 4 Sides
Conversion of the DTM to ACIS solids
get_app

Download FlashMNT 6.18
Download demo version, fully functional but limited to 20 days

Available for AutoCAD, BricsCAD and ZwCAD

How to install FlashMNT 6.18
shopping_cart

Buy FlashMNT 6.18 - 299.00 € TTC
Get a license on the secure payment site Paypal

Enter the serial number of the software, then click 'Pay now'. You will be redirected to Paypal.com website to register. You'll then receive your license code by e-mail within minutes. (Make sure your anti-spam filter doesn't block messages from DeliCAD.com).

info

Additional Information
Help - More information

You want more information on this application or on the site, on the means of payment or the purchase of several licenses, do not hesitate to contact me.

See also :
Flashprofils - Road design

French version